Toothpaste is one of the most common items you'll find in the medicine cabinet, but its uses go far beyond cleaning teeth. And given the fact that it's used inside human mouths, the ingredients are all non-toxic — a bonus if you're looking to replace harsh chemicals commonly found in store-bought cleaners. So what can you accomplish with a dab of toothpaste? Everything from removing stains, polishing materials, and getting a clean sparkle.
According to Pro-Sys, gel toothpaste is silica-based and less abrasive, which won't work as well when you need to scrub something. Along with a tube of toothpaste, most tasks require a cleaning toothbrush, a soft cloth, or a wet sponge to get the job done.
Read on to find out what surprising things your tube of toothpaste can get done around the house.
1. Nail polish remover.
If you're out of nail polish remover, a simple toothpaste scrub can also do the trick. Rub over your nails, then wipe the polish off with a cloth. According to "Healthline", toothpaste with baking soda will add some extra abrasion. Another method to try, per Family Handyman, involves soaking your polished nails in a toothpaste, lemon juice, and water mixture, then scrubbing the polish off.
2. Brighten shoes.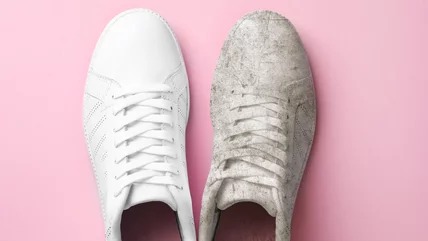 A dab of toothpaste can clean up the scuff marks on rubber sneaker bottoms and toes. Per The Spruce, add toothpaste to a cleaning toothbrush and scrub along the rubber portions of tennis and athletic shoes. After, wipe with a moist towel.
3. Polish jewelry.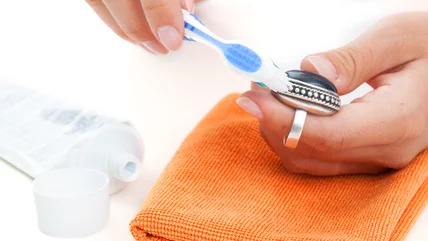 Toothpaste is a great jewelry cleaner but proceeds with caution, as you shouldn't use it on certain metals and stones. Avoid cleaning pearl and opal with toothpaste, Jewellery Nerds writes, as well as soft gemstones, which are too delicate and may sustain scratches. You also want to avoid cleaning gold jewelry with toothpaste.
Silver, on the other hand, benefits from good toothpaste scrubbing. With a cleaning toothbrush, scrub white (not gel) toothpaste to remove tarnish and polish silver, then rinse and buff.
4. Clean an iron.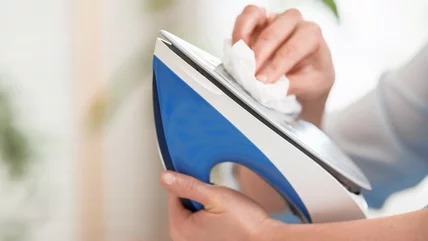 Cleaning your iron might not be top of mind, but if it's time to give it some love, toothpaste will work wonders on its soleplate. Ironing Lab recommends using a teeth-whitening toothpaste, not a gel, which you can apply directly to the soleplate. Wet a cleaning toothbrush and scrub in circular motions. Rinse the iron bottom (without submerging in water) when you've finished, then dry it.
To make sure the steam holes are not clogged, turn the iron on to high heat once it's completely dry. Apply the steam burst button a few times, which should blast out any toothpaste that entered through the holes.
Don't you think this post will be helpful to somebody else? Please share it to others via the social media button below Thanks for reading. Do well to drop your question in the comment box, we will be glad to hear from you.