On Thursday, a female student at the Shehu Shagari College of Education in Sokoto State was allegedly burnt alive for blasphemy.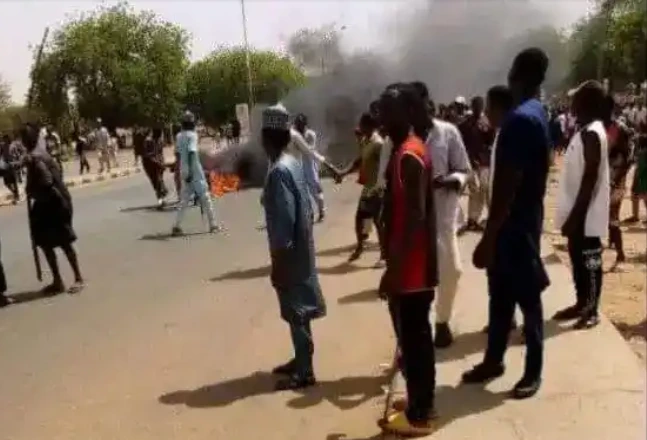 The student was beaten to a pulp after being suspected of insulting Prophet Muhammad (S.A.W).
Young boys flung stones at her in a video captured by our correspondent. Some also hit her with sticks and other items.
The attackers gathered tyres around the victim after she slumped to the ground unwittingly before setting her ablaze.
According to Daily Trust, a teenager named Deborah was accused of making a profane comment on a WhatsApp group.
Her colleagues formed the organisation, which acted as a forum for discussing academic difficulties, according to a source.
Someone said that a religious comment was posted on the platform, and Deborah, while criticising it, made a derogatory remark against the Prophet.
Another person claimed she made the remark while arguing with a fellow dormitory student.
She was urged to apologise, but she refused, raising tensions in the classroom. "College security had to intervene by whisking her to their office, but they were overrun by students, who later burned her ablaze," the insider added.
Commissioner of Information, Isa Bajini Galadanchi, told reporters at Government House in Sokoto that Governor Aminu Waziri Tambuwal had ordered the institution to be closed and directed the ministry of Higher Education and relevant security agencies to examine the incident.
"The Governor has urged the people of the state to stay calm and peaceful, as the administration will respond appropriately to the investigation's results," Bajini added.
When our correspondent visited the school, he saw heavily armed security personnel roaming the grounds as kids exited with their stuff.
Watch the Video below:
Don't you think this post will be helpful to somebody else? Please share it to others via the social media button below Thanks for reading. Do well to drop your question in the comment box, we will be glad to hear from you.