Governor Nyesom Wike has revealed the role he played after Godwin Obaseki decamped to the Peoples Democratic Party in Edo State. The Rivers State governor made some revelations during his interview on AIT News.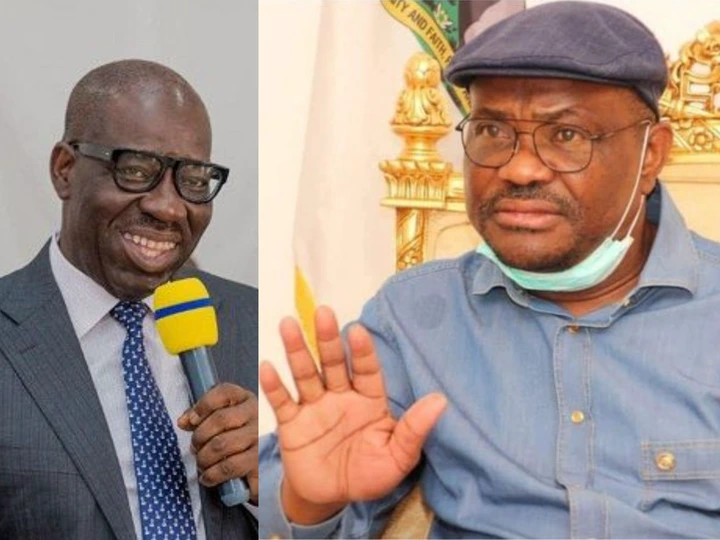 You may recall that the Governor of Edo State, Godwin Obaseki, left the All Progressives Congress (APC) to join the PDP in 2020 during his second term bid. The incident got accompanied by events, and Nyesom Wike has since spoken about the circumstances of the incident.
During his interview, Wike said, "People do not like the truth. People were happy with Obaseki joining the PDP as it was advantageous. However, the political party should not get destroyed because a governor joined the party. The situation should bring party members together instead.
I told the National Working Committee of PDP that the situation was getting managed in a way that could 'destroy' PDP in Edo State. I advised them to hold a meeting between the PDP members in Edo and Godwin Obaseki for discussion. I refused to support efforts to undermine the members of the party in Edo State."
Speaking further, Wike added, "I stood by what I advised, and the meeting united PDP aspirants in Edo State. The move led to the emergence of Godwin Obaseki as the governorship candidate of PDP in Edo State.
PDP would have lost at the 2020 governorship election in Edo State to the opposition if PDP had gotten divided before the election. The other aspirants withdrew and agreed to work together after meeting with Godwin Obaseki."
Don't you think this post will be helpful to somebody else? Please share it to others via the social media button below Thanks for reading. Do well to drop your question in the comment box, we will be glad to hear from you.